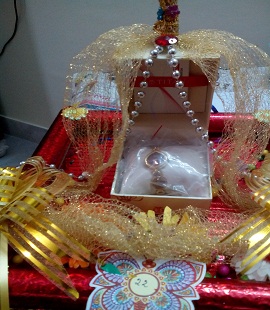 Bengali Wedding : Tatta (Gift Giving)
So like every culture, we Bengalis have a culture of exchanging gifts during a wedding. Its usually referred to as tatta (pronounced as "tot"+"to"). And its usually exchanged during the Haldi ceremony also referred to as Gaye Holud.
So here are some pictures to give you a brief idea:
Tatta Suchi : Its an index of all the items that goes inside the tatta
tattasuchi
Fruits, Sweets and Mishti Doi (Sweet Yogurt ) – Bengalis are big on sweets .. And Mishti Doi (It's the most amazing thing in the world ..its yogurt which tastes like icecream .. yummy! ) .. Differents kind of Sandesh, Rosogulla, dry fruits and fruits are also included inside a tatta.
mishtidoi
Fish – I am not kidding .. A tatta is incomplete without a well decorated fish. Sometimes a fish is also decorated as a bride (Again not kidding ..) with actual nath and red and gold chunni.
fish
Gifts : Basically it consists of clothes, accessories and cosmetics for bride / groom and his/her immediate relatives. Fun part is the way they are decorated – sometimes clothes are carved into interesting shapes like swan or boat or some flower. In any case, it's really fun to watch a tatta being decorated ..